Dragonboat integrates with both Jira Cloud and Jira Server / On-Prem/ data center using Jira Application Link.
The following setup applies to Jira Server (aka on-prem).
Permission: please make sure you have Jira System Admin permission.
Network whitelisting: If your Jira server is behind a firewall, please work with your network admin to whitelist our AWS IP address 3.14.89.18
Browser: Internet access from Jira to Dragonboat is required for integrating. Please use Chrome, Safari, or Microsoft Edge browser. Please make sure you use the same browser that also logs into Jira because in the last step, Jira will authenticate your credential before complete the integration.
On Dragonboat: Generate authentication key pairs on the Settings >> Jira Integration page.
On Jira:

Navigate to the Application Links page
Enter key-value data in the application link fields

On Dragonboat: Authorize the connection pop up from Jira
Here are the details
1. On Dragonboat, Go to Settings >> Jira Integration page, enter your Jira URL to generate key pair for Jira to establish the connection.
On Jira Server, you may find Application links from Admin >> Applications
3. Create new application links (2 screens)
Copy the value from Dragonboat to Jira application linking fields. Fill all 3 URL fields with the same value (Callback URL field below highlights in the aqua color)) on Dragonboat, and make sure you click the "Create incoming link" at the bottom of the 1st screen to go to the 2nd screen.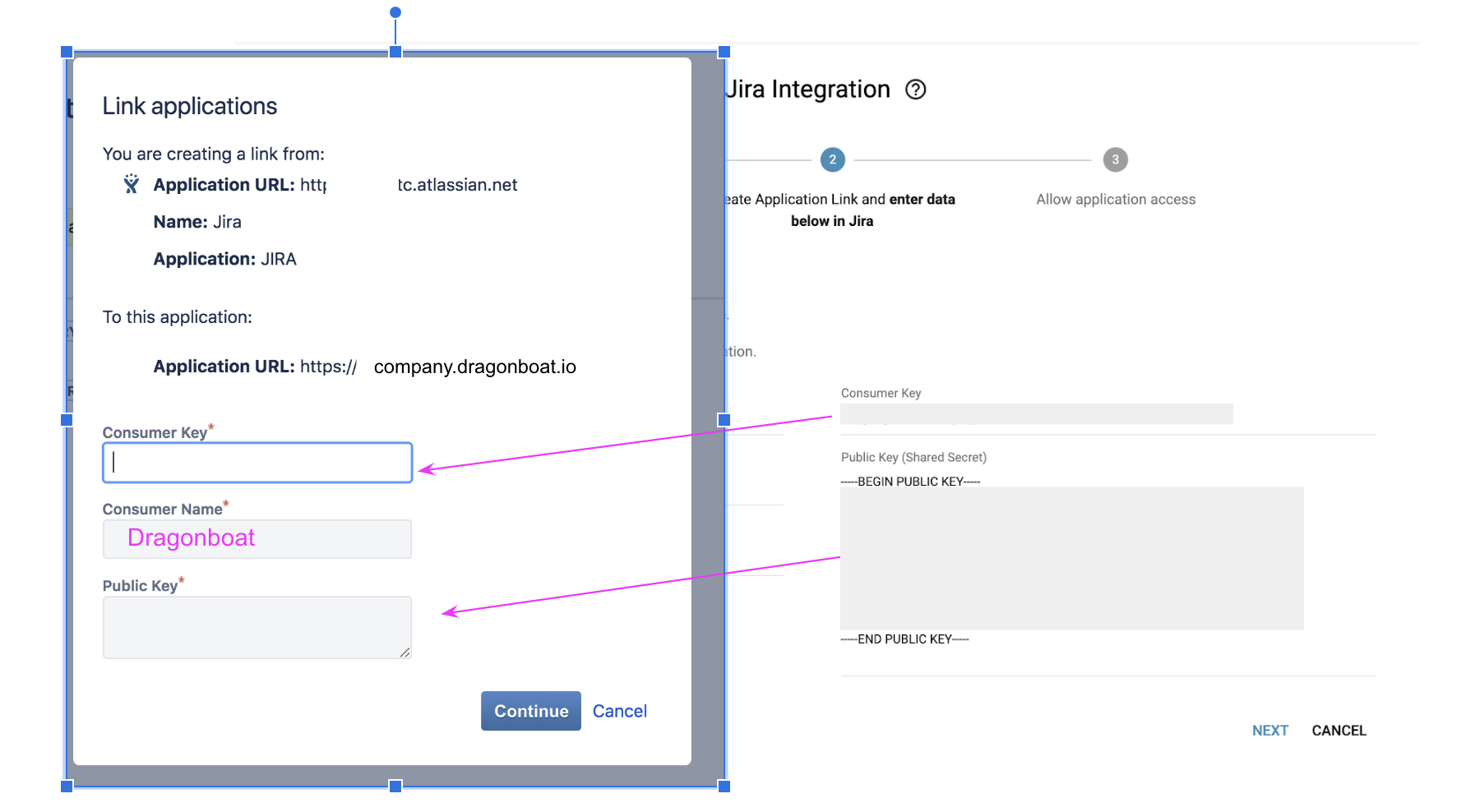 At the end of this process, you will see the Application Link success screen on Jira.
After click Next, you will see a confirmation screen. Please disable your browser popup blocker to see the following screen. You may need to be logged into Jira on this same browser to complete this final step.
Quick video on integrating with Jira cloud via the app link
Please contact us at help@dragonboat.io if you need help. Thank you!