Dragonboat integrates with both Jira Cloud and Jira Server using Jira API /Application Link. This guide is for Jira Cloud only. To integrate with Jira Server (on prem or data center), see guide here.
Important Note: make sure you have Jira System Admin permissions to set up the integration. If you do not have Jira Admin access but wish to use Dragonboat, you may still use it as a stand alone product and portfolio tool.
Access: There are two ways to access the Jira integration page: from the Import screen or Settings >> Jira Integration page
From the Welcome Page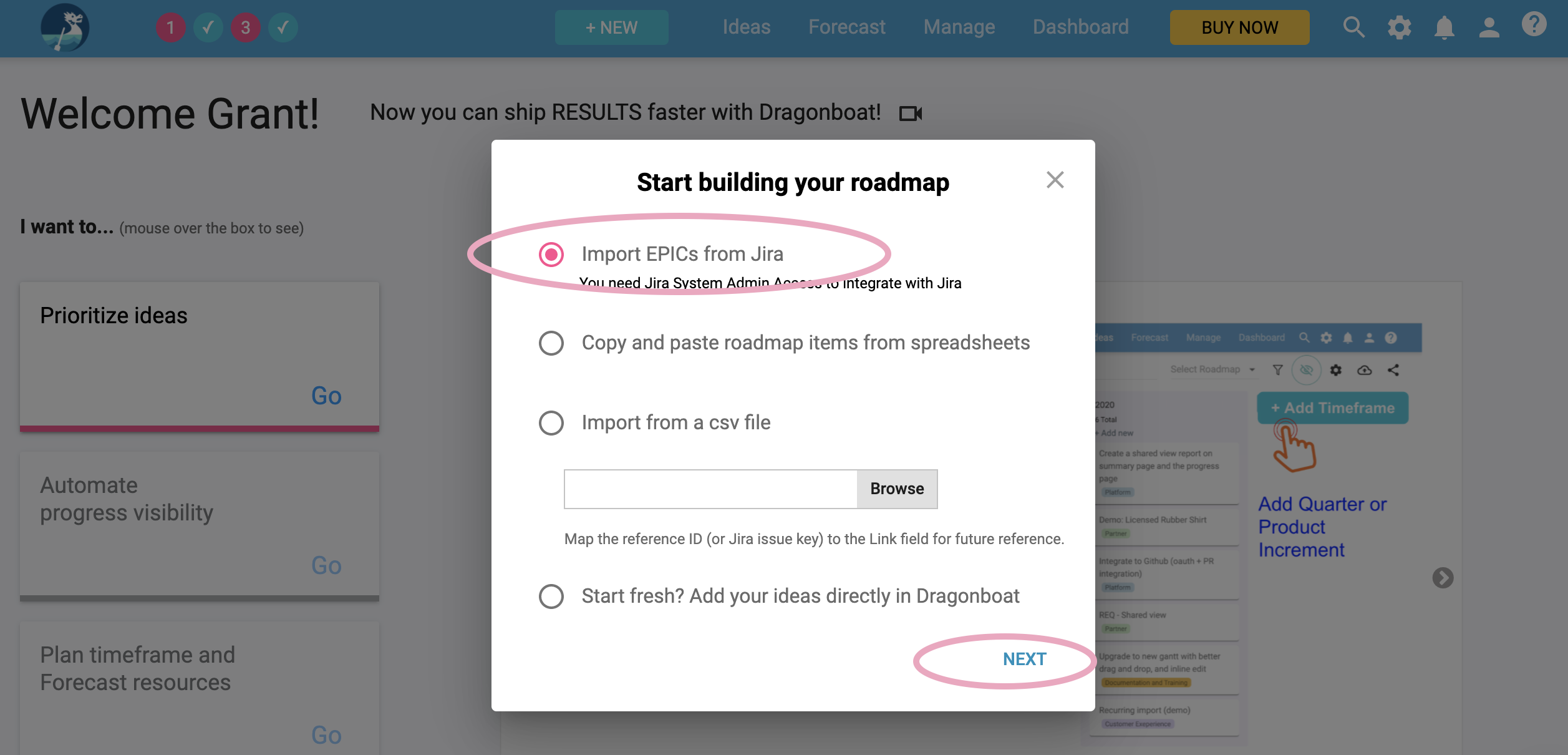 From the Settings Dropdown
=
1. Enter your Jira URL from Browser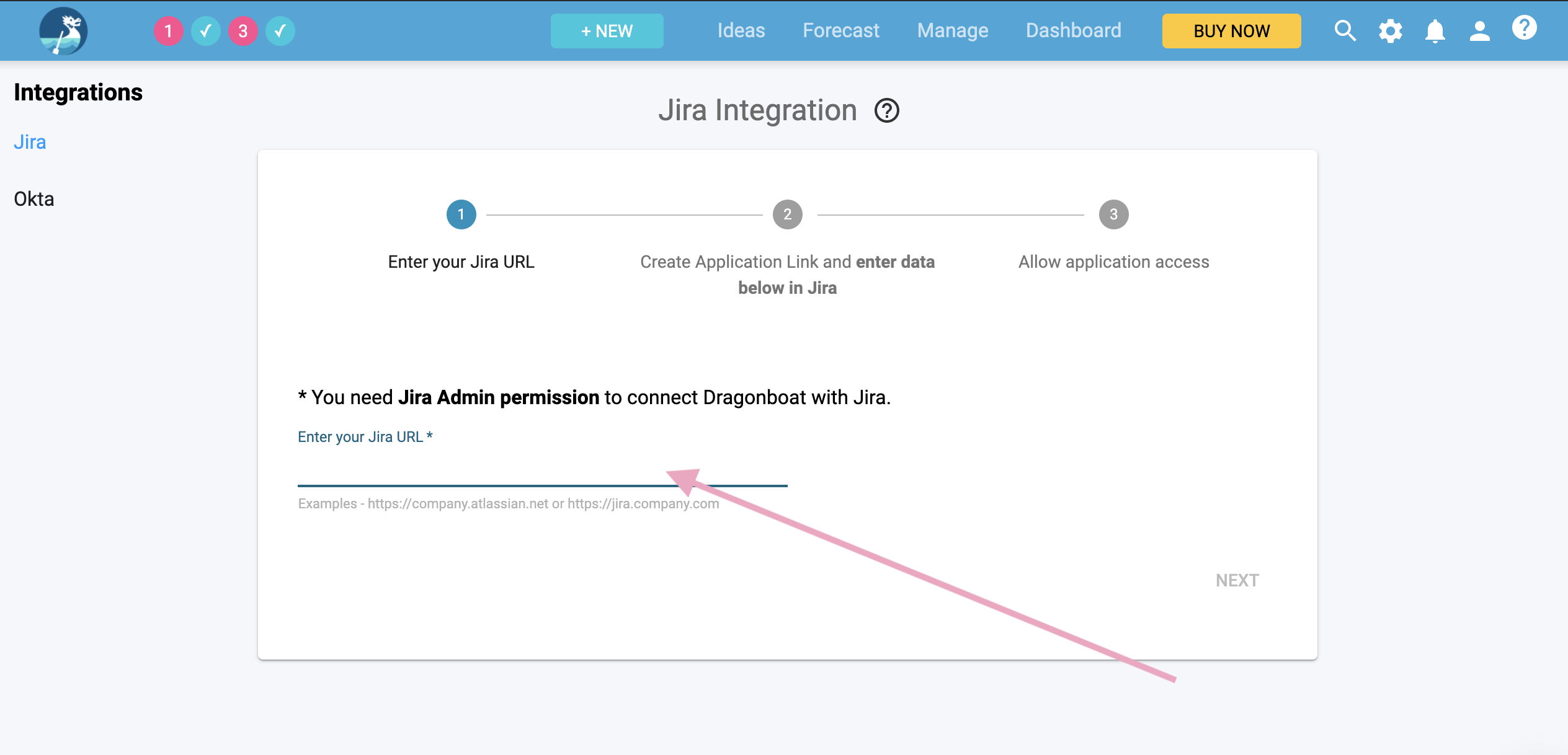 2. Click the link at the top that says "Open Jira Application Links Page"
3. You should see a similar view below. Enter your Dragonboat link in the open text field and create a new link. If you have a previous link, delete it first.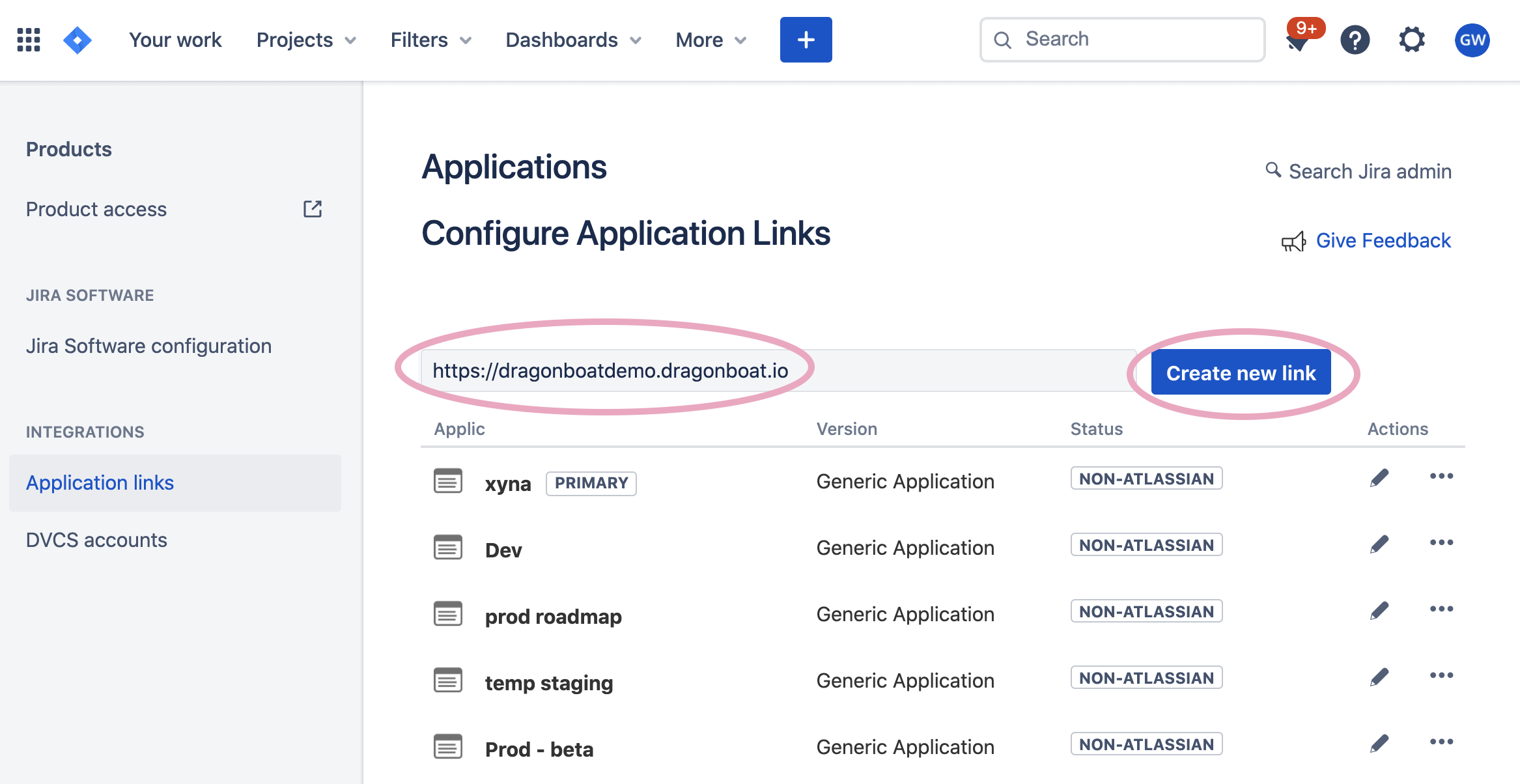 Troubleshooting Note: If you receive the prompt below it's due to missing the https:// in your URL.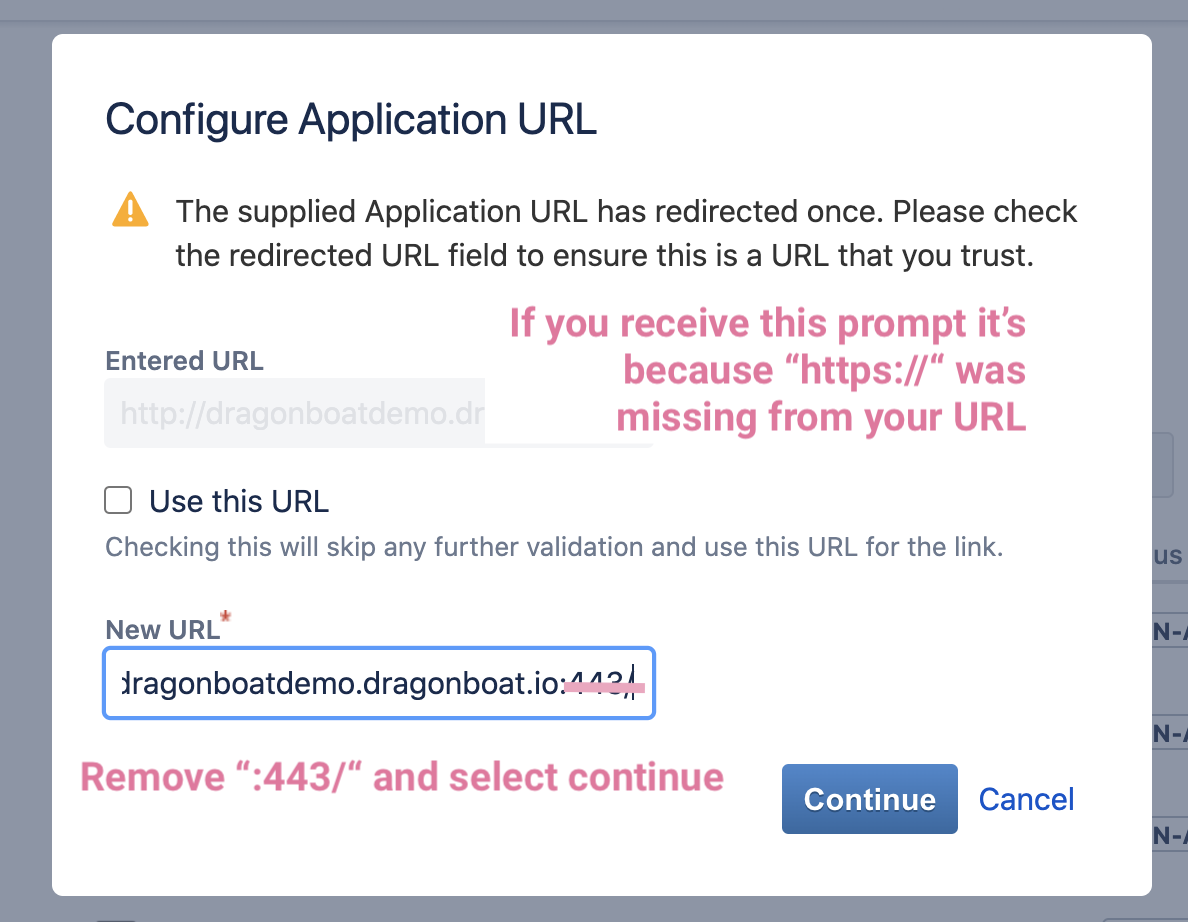 5. Now, you'll navigate back to your Dragonboat tab to copy/paste the authentication fields. These are generated every time a user attempts Jira integration. If the integration fails to complete, delete the previous integration and start over.
Application Name: Enter the name you want to show in Jira.
Application Type: Keep as Generic Application.
Service Provider Name: Dragonboat
Consumer Key: Copy/Paste from Dragonboat
Shared Secret: Copy/Paste from Dragonboat
Request Token URL: Copy/Paste from our "Callback URL" field
Access Token URL: Copy/Paste from our "Callback URL" field
Authorize URL: Copy/Paste from our "Callback URL" field
Check off the Create Incoming Link Box
Press Continue
6. Copy/Paste a few more fields to create the incoming link and you're set!
Consumer Key: Copy/Paste from Dragonboat
Consumer Name: "Dragonboat"
Public Key: Copy/Paste from Dragonboat
Press Continue
At the end of this process, you will see the Application Link success screen on Jira.
7. Make sure your popup blocker is turned off, and navigate back to your Dragonboat tab. Click the "Next" button (under all of the information you just copy/pasted, you might have to scroll down)
After you select Next, you will see a confirmation screen.
Please make sure you are logged into Jira on the same browser for this pop up from Jira to appear correctly.
Quick video on integrating with Jira cloud via app link
Now you're integrated with Jira! What's NEXT?...
Additional Notes:
If you want to disconnect the integration, you can do so under the Settings >> Integration dropdown. Only Admin may set up/ edit integration.
If you want to re-integrate, make sure to delete the original application link you set up in your Jira instance.
Please contact us at help@dragonboat.io if you need help. Thank you!